When Is 'The Batman' Coming To HBO? Here's What You Need To Know.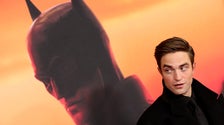 Gotham City's caped crusader is headed to your TV screen very soon.
The latest installment of the Batman franchise, "The Batman," will be available to stream on HBO Max beginning April 18, according to a press release from Warner Media.
"The Batman" will also air on HBO on Saturday, April 23, at 8:00 p.m. ET.
This latest psychologically gripping tale of the cryptic hero premiered in theaters on March 4. The edgy rendition of Gotham's greatest hero depicts Batman in his early years as he struggles to balance rage with righteousness.
Keep reading to see how fans are reacting to 'The Batman's' upcoming release: